All our professionals at Pristine Family Dental maintain the highest levels of accreditation and pursue ongoing education to stay abreast of the latest trends in dentistry.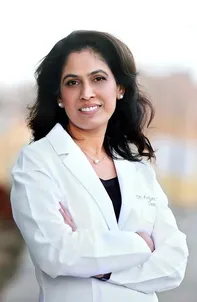 Anjum Zaheer Khan, DDS, FAGD
Dr. Anjum Khan has developed the clinical judgment and diagnostic ability to practice a full scope of general dentistry by providing dental care in a variety of settings such as hospital wards, dental clinics, operating rooms, emergency rooms and comprehensive general dental practices.
A graduate from prestigious and reputable New York University College of Dentistry with honors in General Practice, prior to that she attended University of Illinois at Chicago where she obtained her undergraduate degree in Chemistry. After graduating from NYU, Dr. Khan completed a General Practice Residency at Loyola University Medical Center which rounded out her educational career. Dr. Khan also held a full-time faculty position at Stritch School of Medicine at Loyola University of Chicago.
Dr. Khan's professional affiliations include: The American Dental Association, Illinois State Dental Association, Chicago Dental Society and the American Academy of General Dentistry.
Dr. Khan is very committed to her patients and their oral health. Oral Health is an integral part of your overall health and she wants to help keep you healthy.
She is married with three children. She enjoys music, drawing, running, and spending time with her husband, their three children, family and friends.
I'm an FAGD Dentist! What does that mean for you and your family?

FAGD stands for Fellow of the Academy of General Dentistry. Earning Fellowship takes dedication to dental continuing education (CE) beyond graduation. Only about 6 percent of general dentists in the U.S. and Canada are AGD Fellows. When you see a dentist with FAGD after their name, you can rest assured that they care about knowing the latest techniques in a classroom setting multiple times a year - not every dentist does this.
To become an AGD Fellow, a dentist must:
Complete over 500 credit hours of CE.
Earn 350 of those 500 credits in live courses.
Pass an exam equal in difficulty to board certification exams.